MAUI SCUBA DIVING
38 YEARS OF EXCEPTIONAL SCUBA DIVING
If you view scuba diving as a fun, relaxing, intellectually and spiritually fulfilling endeavor, we know how you feel! That's why we have no arbitrary time limit on your dives and we travel slowly underwater so that you can see and experience as much as possible. You are free to dive with one of us, having us show you animals and behaviors that we know well or be off a-ways in your own world to take pictures or just be inspired. For 38 years our experienced biologists and naturalists have been taking out small groups of certified scuba divers for truly educational, personalized Maui scuba diving. Whether you are a newly certified scuba diver or have thousands of dives under your belt, we're here to accompany you on an adventure that we hope will become one of your cherished Maui memories.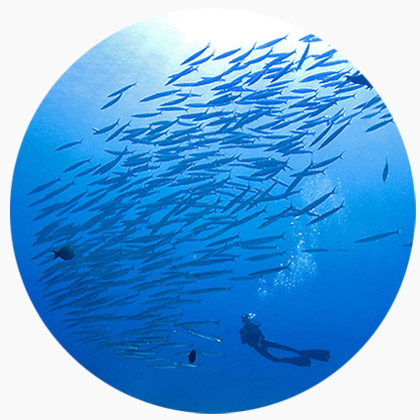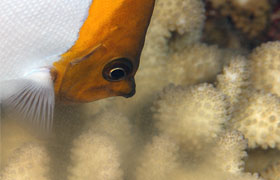 When you come to Maui you can scuba dive off of Maui itself and also at an offshore island called Molokini Crater. Maui scuba diving includes extensive coral reefs, several wrecks including a couple WWII artifacts, healthy green sea turtle populations and interesting animals such as frogfish, manta rays, octopus and special marine life (about 25%) that is found only here in Hawaii!
Molokini Crater is a volcanic cone that has been a marine reserve for over 35 years! The water clarity at Molokini is exceptional and the curved shape of the cone protects a vibrant, thick coral reef with apex predators like sharks and jacks. All around the outside of the cone are slopes and walls part of which is known as the Back Wall of Molokini.
Go to OUR DIVES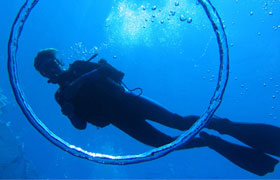 Mike Severns Diving is a close-knit group of people driven by the love of scuba diving and the desire to share that love with other scuba divers. We take great care in every aspect of the operation from the condition of the boat and the SCUBA equipment, to the just-out-of-the-oven cinnamon rolls, to carefully finding out what each diver really wants to get out of their day.
One of the best comments we've received is that our scuba guides are helpful, not hovering. If you want to stay right next to us we will show you gorgeous and unusual animals. If you want us to find you the perfect photography subject we're right there to do that. And, if you want us to leave you alone to commune with nature, we can do that, too.
Go to OUR GUIDES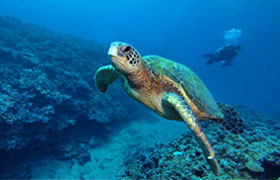 Our scuba divers come from all over the world, are varied in experience, and have different hopes and goals for their scuba dives, so each day is built around the unique individuals onboard that day.
By keeping the plan open and seeing how the day unfolds we are better able to fulfill your desires. If you want to photograph a particular animal, or see a particular site, if we happen upon a whale, if we hear on the radio that a pod of dolphins is in the area, or that a manta ray has just been sighted at a certain dive site, if we find some floating object with weird animals living on it – whatever comes up we want to be able to seize the opportunity and make that amazing experience happen for your day of Maui scuba diving.
Go to YOUR DAY