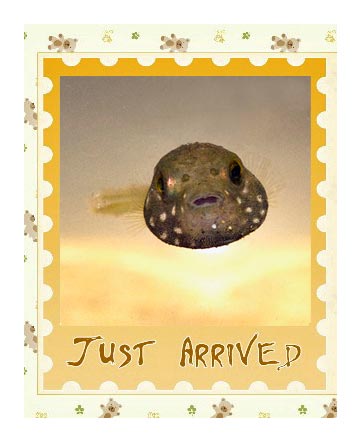 Spring is here!
Spring on Maui means that whale season comes to a close, the water starts to warm up, corals begin releasing their eggs and sperm into the water during their annual spawning events, and new baby fish begin to settle out of the plankton onto the reef.
The spring and summer months are prime months for baby fish settlement. These fish have spent weeks or months as larval fish developing up in the plankton, and when the time is right they leave the plankton and seek an appropriate reef to begin their life as juvenile fish.
Sometimes these settlements of fish number in the thousands or even – in historic years such as 2014 – in the millions of a single species. But the vast majority of fish species settle in smaller numbers with no fanfare, without our awareness. They are tiny, and they remain tucked into crevices in the reef until they are large enough to be less vulnerable to predators and until they are better able to defend themselves.
It is so rare to see these new arrivals – those that have literally just dropped out of the plankton the night before or two nights before – that it is almost like witnessing a birth when you see one!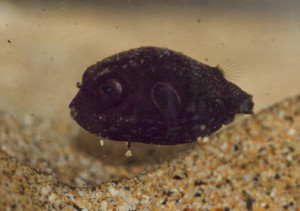 I was in the "birthing room" today during a dive. As I reached out to pick up a stick on the sand, a tiny black thing darted a couple of inches. It was so tiny and so unremarkable that I hadn't even noticed it. At first I thought it was a squid, but as I looked more closely, it appeared to be a tiny pufferfish.
At half-an-inch in length, this little guy already had the shape and proportions of an adult pufferfish. He had delicate fins in the right proportions and he even had an exquisite, tiny version of an adult pufferfish mouth. Any pufferfish parents would surely have said, "He's perfect!"
He was so dark though, and appeared to have no distinguishing color or marks, that I never thought I would be able to identify the species of pufferfish he was.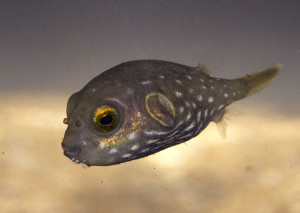 However, as I photographed him, over a few minutes, he turned lighter and lighter in color, revealing markings that gave away his identity! At less than the size of a dime he is an almost perfect miniature of an adult!
Can you identify which species of pufferfish this little guy is? Click here to find out if you're right :-).