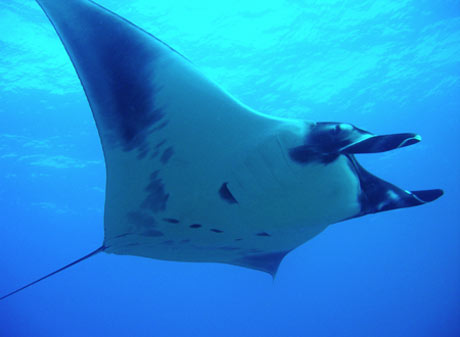 Maui Scuba Diving Sites
For the most wonderful Maui scuba diving sites possible, dive sites are always determined when we get out on the water in the morning so that we can see the wind, current and visibility, and so that we can find out from you what you are hoping to see. We often have scuba divers who are diving several days with us and so we also do our best to dive different Maui scuba diving sites during those days.
Typically the first dive is someplace at Molokini, and the second dive is someplace off of Maui, with many scuba diving sites to choose from off either island. There is no way to predict a particular dive site even one day in advance because the wind might not do what is predicted, or we could get to a spot and see that the current is too strong or that visibility is horrible, etc. What we've found over the years is that divers are much happier diving sites that are good for that particular day, than they are diving a "guaranteed" site in unfavorable conditions.
One of the most interesting things we have learned is that Maui scuba diving sites change over time. An animal may stay for a few months and then disappear! Below are a few of the Maui scuba dives and sites that we visit with a description of the animals that we typically see there. Who knows what will be at what particular dive site when you visit?