Pu'u o­ kali
If you've lived in Kihei for any length of time you've undoubtedly noticed the lone red-dirt cinder cone more than half-way up the slope toward Kula. During 30 years of living in Kihei, I had passed this reddish hill surrounded by acres of kiawe trees almost every day. But it took several scorching hikes, a map, and a book of Hawaiian place names in order to become personally acquainted with this landmark.
After a Sunday hike with dedicated hiking partner and water-bearer, Rob Nelson, I looked at a map to find out the name of this isolated hill that we could see up on the slopes of Haleakala. It showed the name as Pu'u o kali. That sounded so familiar. When I pulled out Place Names of Hawai'i by Pukui et al, I realized why.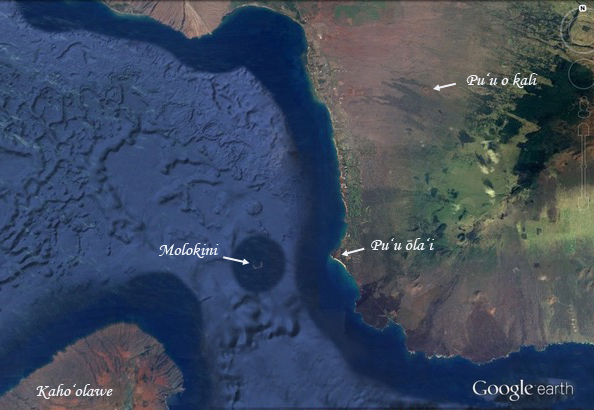 Molokini Islet
Molokini is a crescent-shaped islet a few miles off the southwest coast of Maui. Possibly the earliest written account of  legends relating to the origin of Molokini Islet was by Jos. K. Kahele Jr. in the mid-1800s. It was later translated into English and published posthumously by A. Fornander in 1919. Mr. Kahele tells of a young lizard goddess named Pu'u o inaina (Pu'u o inaina means hill of wrath, because these demigod lizards could also take the form of land features). She was the daughter of lizard gods who placed her on the island of Kaho'olawe.
Although she was married to two brothers, they were away much of the time and eventually she took a new husband named Lohi'au and forgot her own husbands. However, Lohi'au was already married to the fire goddess Pele! When Pele heard of Pu'u o inaina and Lohi'au, she became angry. Pu'u o inaina, getting wind of this, felt ashamed and retreated into the sea. Pele, on the way to see her husband, was blocked by Pu'u o inaina's father and so she had to wade through the sea. There she came upon Pu'u o inaina stretched across the channel from Kaho'olawe to Makena. In anger she cut her lizard rival in half – her head became Molokini and her body became Pu'u ola'i.
Now, remember that hill up on the side of the mountain, Pu'u o kali? That was the name of Pu'u o inaina's (whose head became Molokini) mother! I had spent thousands of hours underwater at Molokini; I even knew that her mother's name was Pu'u o kali, but I had never realized that Pu'u o kali is the cinder cone right here in Kihei – and that I'd been driving past her for 30 years.
Can Pu'u o kali see her daughter?
Then I wondered, can Pu'u o kali see both parts of her daughter (Molokini and Pu'u ola'i) from her location up on the hill? I had to know. Since I hadn't realized the connection between Pu'u o kali and Molokini the first time we'd been in the vicinity, I hadn't looked at the view with that question in mind. So back we went to answer that question. As the photo below shows, she can see part of her daughter. She can't see her daughter's body (Pu'u ola'i), but she can see her head (Molokini).
Being able to connect the features around us to Hawaiian legends brings these features to life. How many places can a person live, and in the course of a day look up and see the stuff of legends right in her midst? It's just one of the many riches of a life lived in Hawai'i.
Stay tuned….. on Father's Day we'll visit Molokini's father. It's an even more interesting story.
Written by Pauline Fiene. Photos as credited.
**************************
Fornander, Abraham. 1919. "Hawaiian Antiquities and Folk-lore." Ed. T.G. Thrum. Bernice P. Bishop Museum Memoirs, vol. 5(3). pages 514-518.  Honolulu.
Pukui, Mary K., Samuel H. Elbert and E.T. Mookini, 1974. Place Names of Hawai'i. Honolulu: The University Press of Hawai'i.