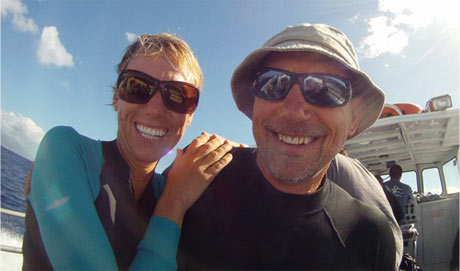 Our Dive Guides
Mike Severns Diving is a close-knit group driven by the love of scuba diving and the desire to share that love with other divers. We have been doing this for a long time and we take great care in every aspect of the operation, from the condition of the boat and the SCUBA equipment, to the just-out-of-the-oven cinnamon rolls, to carefully finding out what each diver really wants to get out of the day. We divide the divers into two small groups based on their experience – and then we go scuba diving!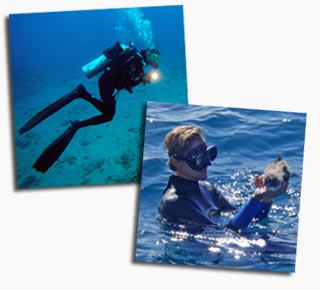 Pauline Fiene
has a degree in biology from St. Olaf College and is especially interested in nudibranchs, two of which have been named for her, Hallaxa paulinae and Hypselodoris paulinae. She has studied Hawaiian marine life for over twenty-eight years, discovering many new species of marine animals and publishing a paper on the spawning of Hawaii's most abundant species of coral, the first time spawning had ever been recorded for this species worldwide. MSD now offers annual dives to see this species spawn. Pauline is coauthor of several books including Molokini – Hawaii's Island Marine Sanctuary, and Diving Hawaii and Midway; and with Cory Pittman she co-authored the comprehensive Hawaiian nudibranch website seaslugsofhawaii.com. In 2009, Pauline was inducted into the Women Divers Hall of Fame. Enthusiastic about learning and sharing what she has learned with interested divers, she takes care to make sure that they see the details and unique animal behaviors that make diving so interesting.
Andy Schwanke
gave up partnership in a dive business fourteen years ago and joined MSD in order to spend less time on business and more time on the ocean, sharing his talent for discovering animal behaviors that the rest of us have overlooked for years. Over the years he has contributed to our knowledge of the Hawaiian green sea turtles that live along Maui's Kihei/Wailea coastline. Using a digital camera he identified several hundred individual turtles and his data resulted in the first fibropapilloma tumor rate estimate for this area of Maui. His unusual animal observations and photos have also appeared in several marine life guidebooks, such as John Hoover's Ultimate Guide to Hawaiian Reef Fishes and his Hawaii's Sea Creatures. As our onboard tech support, he helps divers daily understand and get the best results from their own digital underwater cameras. Andy's great sense of humor and skill as a captain are two of our company's greatest assets, as our repeating divers will attest.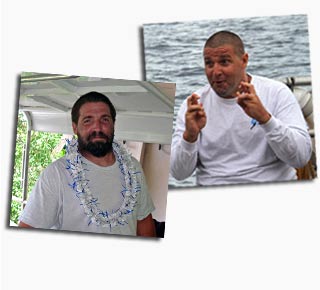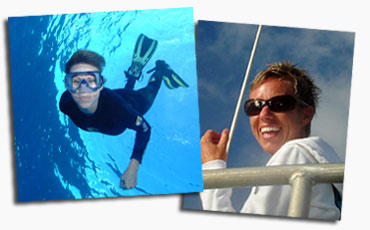 Autumn Hill ("AJ")
has worked as a medic, an emergency room tech, and a dental assistant, but loves diving most of all, as evidenced by her positive attitude and the huge smile she sports when she is out on the water. She has her Ocean Awareness certificate, and as a divemaster (when she's not pointing out giant manta rays) she excels at pointing out animals and animal behavior that divers would not normally get to see. Her most recent discovery of a little WWII bottle near one of the wrecks that we dive led us on an interesting search for the bottle's origin and purpose:
http://www.mikesevernsdiving.com/maui-wreck-dives-bottle-discovery/
Warren Blum
put in 16 years as a dentist in Texas, most of them in private practice, before breaking out and heading to Maui thirteen years ago to fulfill his dream of diving and working on the water. Although an instructor, Warren's real passion is showing and teaching people about Hawaiian marine life. One of his interests is in photographing and identifying manta rays that visit the areas that we dive. He has added several individuals to the known Maui population and one is even named after him. His photos also appear in John Hoover's Ultimate Guide to Hawaiian Reef Fishes. As one of our more "mature" and long-term divemasters Warren has the knowledge and calm countenance that make diving with him a true pleasure.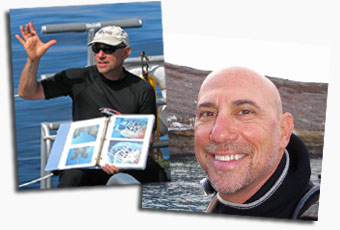 Guides Emeriti
Our sincere thanks to our guides emeriti, each of whom we miss greatly. Thanks to the following extraordinary guides and captains who, over the last 38 years, have given so much joy to our divers and to their fellow crewmembers, and who are now pursuing 'grown-up' careers: Jennifer Anderson, Dan Diaz, Dave Fleetham, Kiwini Hall, Jeff Kuehn, Bo Lusher, Tara Lusher, Sharon McGauley, John Richardson, Guy Ray, Jeff Ronesi, John Svendsen, Dave Tanis, Vici Tate, Tammie Visintainer (head deckhand ☺), Seth Waller, and Michelle White.